Over 500 refugee claims have been processed by the Canada Border Services Agency (CBSA) and Immigration, Refugee and Citizenship Canada (IRCC) in British Columbia for January and February 2019 alone. These refugee claims only account for a fraction of detainees that are interviewed by the CBSA. As of 2018, Securiguard Services has provided the CBSA with Securiguard Security Professionals (SSP) who perform detainee transports, and essential security in the immigration holding centers (IHC) while detainees await CBSA and IRCC services.
Detainees Are Not Criminals
"It's important for people to realize that detainees are not criminals and we must treat them kindness, dignity and respect. If you or I were to make a mistake on our travel documents in a foreign country, we could be detained too. Our Security Professionals make sure that detainees feel safe, comfortable and supported while they are waiting for an immigration decision," says Securiguard-CBSA Operations Manager, BB Sodhi. SSPs play a key role in the CBSA's operation to facilitate the flow of legitimate travellers and trade to keep Canada safe. When foreign nationals enter a port of entry, like YVR Airport, some may be required to undergo further immigration screening interviews by the CBSA.
Depending on their circumstances, they may be detained anywhere from a few hours to several weeks. During this time, SSPs ensure the safe and secure transport of detainees to and from ports of entry, interviews, hearings and IHCs. For British Columbia, this can sometimes mean trips to Vancouver Island, or flyouts to other provinces. The range of duties include overseeing the care, custody and movement of detainees, detailed observations and report writing, confirmation of departures, and the monitoring of CCTV activities.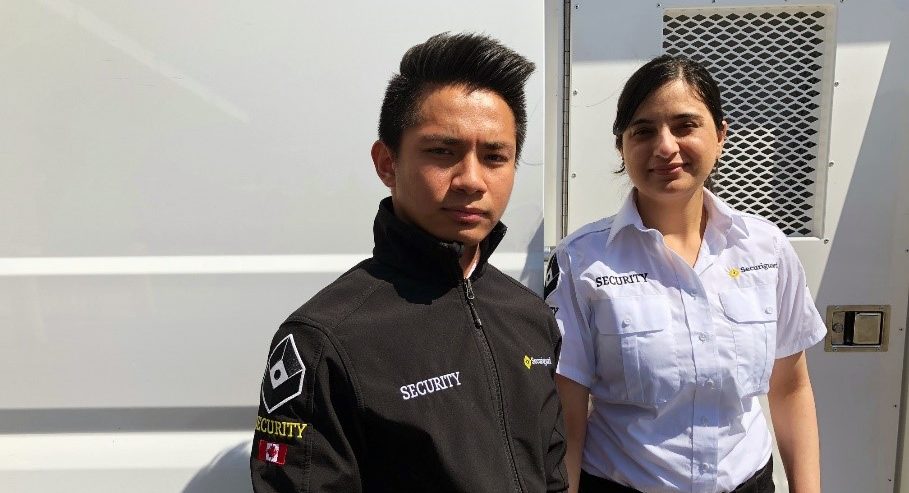 The Human Touch
The role itself involves of lot of human interaction; working within a highly trained team and conversing with detainees from different cultures and backgrounds. "We look for individuals with strong people skills, integrity and accountability. Our Security Professionals also need to be able to work independently, and think critically in different situations," adds BB Sodhi.
The way SSPs interact and conduct themselves can make a huge difference in a detainee's life. The average stay of a detainee is approximately 20 days. Some are looking for economic opportunities, and some are seeking asylum because they are afraid for their safety in their home country. For many people, this holding period can be a very stressful and lonely time. It takes a great deal of sensitivity and awareness to make sure that a detainee does not cause any harm to themselves or others. While not a requirement, many of the SSPs even speak multiple languages in order to converse and share stories with the detainees. Some of the languages spoken by the SSP team include Spanish, Farsi, Cantonese, Hindi, and Punjabi. This is a very rewarding role for a compassionate individual with keen observation skills and an aptitude for problem solving.
A Brand New Space
To improve the experience of detainees with extended stays, a new CBSA immigration holding facility in Surrey is expected to open in May/June 2019. The new facility will have plenty of natural light, indoor and outdoor recreational space, as well as medical, mental health and spiritual services for detainees. Securiguard will be hiring many more SSPs to continue making a difference at this facility.
Work with us
If you have a passion for helping others and are considering a career in public service, immigration or law enforcement, the Securiguard Security Professional for the CBSA position is the perfect stepping stone to gain the experience, learn internal policies and build professional relationships.