Looking for a Career in the Security Industry?
We want to help you achieve your career goals, whether that is in security, law enforcement, or public service.
We offer many exciting opportunities in a variety of industries. We are fully committed to helping you reach your full potential through mentorship and an internal promotion structure.
We support this commitment by offering you:
Employee Perks and Benefits
Securiguard has a comprehensive Health, Dental, and Vision care plan for our employees and their families. We also offer numerous discounts through our partners including Cineplex Odeon, Telus, Mark's, and many more that are accessible through the Endless Savings & More Application.

Continuous Training
Through Securiguard's Online Teaching Platform: Securiguard University, we offer training courses for our employees that include Non-Violent Crisis Intervention, First Aid and CPR, Leadership Training, and much more.

Latest Tools and Technology
Securiguard keeps up to date with the latest tools and technology to support our people. We provide our Security Professionals with the Sonim XP Smart Phone which operates with our Securitrack Checkpoint Touring System. Securitrak makes reporting quick, easy, and effective to the advantage of our Security Professionals and our clients.

Opportunities for Career Advancement
Securiguard firmly believes in hiring based on alignment with our core REACH values and promoting from within. We have many opportunities across Canada available in a variety of different departments. See below for potential career progressions.

Work/Life Balance with Flexible Schedules
With a diverse portfolio of sites running 24/7 including Commercial, Industrial, and Residential, Securiguard offers a variety of shift options to suit any lifestyle whether that be Part-time, Full-time, On-call, or shift work.

Attentive Management
The Securiguard Management teams are available to Security Professionals 24/7 for support, coaching, and feedback whenever needed.
Career Paths
Guard
Everything starts off as a Guard and branch down to the roles below.
Select an option to view a potential career path.
Training Programs
Securiguard provides government-required Basic Security Training at our regional offices monthly. Our course ensures that all graduates meet the requirements of providing enhanced customer service, leading to greater employment opportunities.
We also provide opportunities for ongoing growth and professional development, with a wide selection of classes through our Advanced Training Centre and online learning platform, Securiguard University, including areas such as Occupational First Aid, Control Centre Monitoring, and K9 Detection.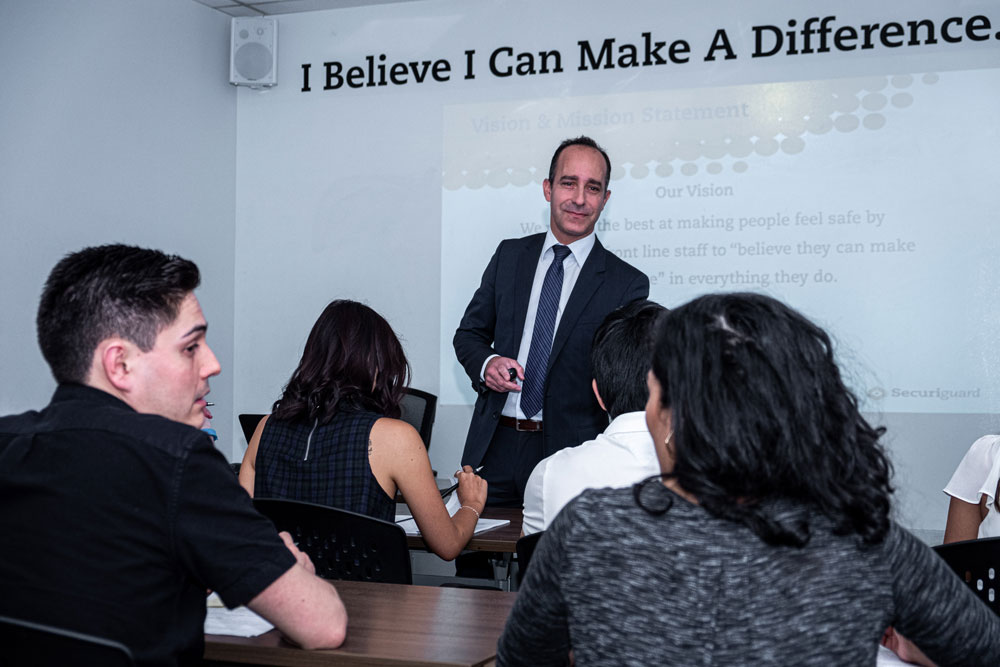 Employee Recognition
Like all successful organizations, Securiguard recognizes that people are our greatest resource. We have competitive benefits packages, additional training sponsorships, and award systems along the way.
Many of our employees have been with Securiguard for 5, 10, even 20+ years. Certificates of Recognition are awarded to our long-standing employees for their extraordinary commitment to our vision.
Together, we believe we can make a difference. Our monthly iBelieve Award Program recognizes employees who share this belief and demonstrate our values of Respect, Empathy, Accountability, Courtesy and Honesty.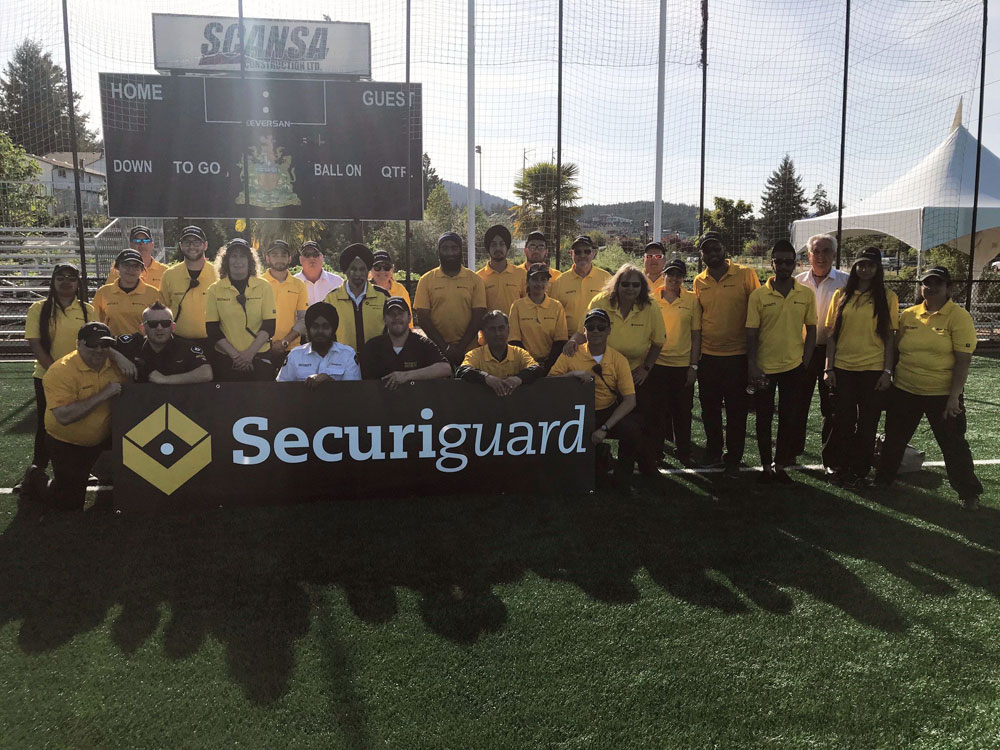 FAQs
Security Licensing and Training
Applying For Employment.
Securiguard offers a wide array of opportunities at locations such as banks, office towers, industrial sites, airports, ports and schools. Please submit your cover letter and resume to the Branch Office indicated on our Careers portal and we will be in touch regarding available opportunities.
Our idea candidates take pride in delivering outstanding customer service and are great communicators and are great communicators. We are looking for motivated individuals who have a keen eye for observing exterior and interior premises, have a mature attitude and can stand for a duration of 8 hours. You will need to be comfortable with radio communication and able to write reports.
It is great to see applications involving experience in a security or a customer service environment. While we encourage applications from those beginning their career in security, having Basic Security Training (BST) or studies in the field of justice, public safety or criminology and certifications such as OFA 1 and OFA will make your application stand out.